In this latest episode, #4, Mel the Engineer engages with Christen Wood, a Wastewater Operator & Operations Administrator at the County of Summit Department of Sanitary Sewer Services. She has been working in the wastewater field since 2008- first at the City of Ashtabula wastewater laboratory, then in both laboratory and operations roles for the Northeast Ohio Regional Sewer District. Her education includes a Master of Business Administration and a Bachelor of Science from the University of Findlay. She currently holds certifications as a Professional Operator, Wastewater Treatment Class IV; Ohio Class III Wastewater Operator; and Ohio Class II Wastewater Analyst. She is passionate about the Operations Challenge competition and sharing the excitement of clean water with the world, including through the wastewater Twitter community as @sewer_chic. Her achievements include OWEA Professional Wastewater Operations Award, NESOWEA Herb Hansen Award, and writing the winning WEF Fight Song: Treat the Water Right.
If you have followed my journey, you know I am passionate about the water industry, and so there are many quotes I can share from Christen's interview. Let me just start with the most important!
"The doctors of the world are very celebrated as they should be, but wastewater operators save more lives each year by protecting the waters that people are drinking and fishing and swimming in…."
Let's just pause and think about a world without clean water….
No Water
No Coffee
No Beer
No Wine
No Swimming
No Processing
No Energy
No Comfort…
Ok… you get the picture!  It's important!
Another thing that is important is that we look at the system and make it more welcoming to women in these fields.  How do we make the jobs more attractive?  Yes, we pay them well… but is that all there is?  How could make these job more inviting and desirable as a career path?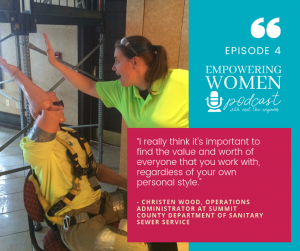 Christen talks about the value of the Operations Challenge at building individuals and developing their skills.  Not just water skills, but the ability to work better as a team and grow into management in their careers.  This is a big deal in the world of operators.  From what I heard in this interview and in my conversations, there is an element of 'earning your spot'… Let's make that path clear and available to ALL that want it.
Diversity is the key to building our future workforce at its best.  We are focused on training women to be better communicators and leaders so they can share the ideas that are essential to the growth of this industry – now let's make room for them to lead.
Listen to Christen Wood's story and you will probably see the first step to that growth!
https://www.empoweringwomeninindustry.com/podcast/episode/b698c9d2/empowering-women-podcast-christen-wood-operations-administrator-at-the-county-of-summit-department-of-sanitary-sewer-services
I'd love to hear your feedback on these Empowering Women podcasts! What 'takeaways' have you gained from listening?
What would you like to hear moving forward?
How can this podcast Empower YOU?