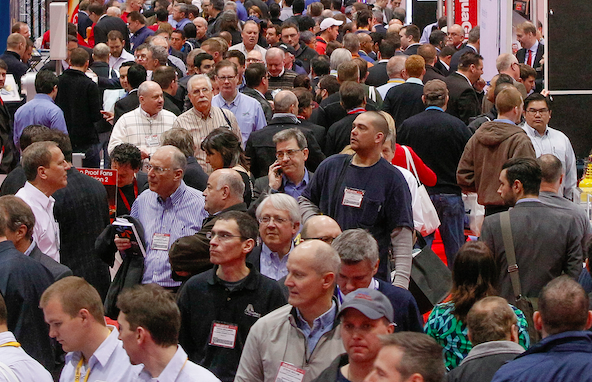 Participating in pump industry tradeshows presents you with an opportunity to meet individuals with whom you may not have otherwise become connected. Exhibitors can put a great amount of time and effort into preparing for a show, but somehow diminish the amount of leads they can generate while AT the show. I am sharing these tips below to help revitalize unproductive booth behavior so you can improve the quality of your tradeshow interactions.
Have a Plan for Your Time in the Booth.
We have all seen exhibitors sitting in their tradeshow booths looking completely bored out of their minds. If you are exhibiting, have a plan for your time in the booth. Eye contact and a BIG smile is your first connection with a passerby. If you are not trying to make eye contact with the people walking past your booth, you cannot even begin to initiate a conversation. While you are looking at and smiling at EVERY person walking by your booth, SCAN their name tags. Almost everyone that attends tradeshows wears a badge that displays their name, position title, and company they represent. Exhibitors who are scanning the tradeshow participants' badges while they walk by are more likely to spot the individuals they WANT to speak to; and since those exhibitors are actively making eye contact, they are more likely to get that person into their booth by shouting out a question or offering that individual something from their booth – whether it be a product demonstration, promotional item, or a piece of literature. While exhibitors typically spend most of their time trying to engage people passing by, it is also important that they use social media while at the show to help encourage traffic to their booth.
Use Social Media.
When you have a plan for your time in the booth, determine how many minutes every hour you want to spend using social media while at the show. Read Kerry O'Malley's article "Using Social Media to Drive Engagement at Trade Shows". Use social media while exhibiting at the tradeshow, but be careful to not spend every minute of your booth time looking face down at your smart phone. Make sure any reps manning your booth are not frequently zoned into their laptops. That is a great way to let potential business relationships walk right past you. Try to determine the best times during the show to use social media so you can balance your online activity with your face-to-face engagements.
Get That Lead!
Do not be afraid to ask for a person's business card. If you spent valuable time and energy getting that person into your booth, discussing their business, and learning about areas where both your companies can collaborate, take that last step to generate the lead. Ask if you can send that person your newsletter; or better yet, invite them to sign up for your newsletter right there at your booth. Set up a laptop just for tradeshow participants where they can quickly and easily add themselves to your mailing list. Connect with every new person you meet at the show using LinkedIn. Connecting on LinkedIn gives you the added benefit of not only keeping in contact with that person as they move to different companies, but also increasing your potential to build more bridges with their existing connections. If you ask a person for their business card, and they explain that they are not quite the right person for your company to communicate with, ask them for the name of the person who can help to build the bridge between your companies. The point is to keep the conversation going after the tradeshow has concluded.
These tips may seem simple, but the truth is…sometimes the simplest acts are the hardest to perform! If you have additional tips for improving your time in the booth, I'd love to hear your stories!