Let's just into Episode 2 features Renee Joseph, Vice President at Johnson Controls. In this Empowering Women podcast, Renee shares her career path, explaining how she started her career in the HVACR space without any technical training. She courageously describes her experience leaving the workforce to become a caretaker for her terminally-ill father, and the verve she mustered to return to her career. Renee has exceptional, heart-felt advice for women working their way up in male-dominated career spaces. It's also obvious from her talk that she has a deep passion for diversity, and works towards improving the environment for all people in the HVACR space.
Her quote really spoke to me: "You really have to make sure everyone has a seat at the table and that you encourage and coach out those voices so that everyone can be heard."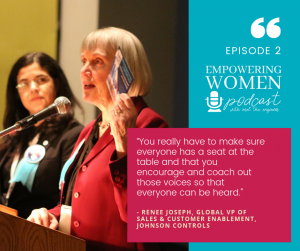 As Renee talks about the unknown world of equipment behind the walls, it also reminds me of the awesome work men and women do that they don't celebrate.  So many times, the ones that do the best work don't want to be in the "spotlight".  They are working for the greater good, so I believe it is my job to show them the importance of celebrating what's worthwhile, scratch that! What's Essential! It is necessary to create role models, super heroes, and to shine a light on the stories of our 'unsung' heroes.  We know you are awesome, but we also need everyone else to know that as well!
Renee's interview is special to me because I met her in January at the AHR expo, and well… I feel in LOVE.  She was so Charismatic and Graceful!  I was in awe. Let me tell you the story… After a long day at AHR, we pushed through to the "Coolest Women in the World" event (CHEERS to those who organized that event, btw!).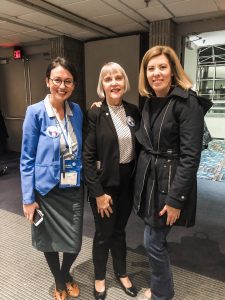 As we entered, were given 5 bracelets to exchange as we met new people. We grabbed a glass of wine and began to meet the people in the room.  I was determined to meet the woman who put the event together. I spoke to several organizers, and then one gentlemen at my table said "I know exactly who you need to meet! WAIT HERE… I'll bring her to you."    Ok can we first say… how many people do that?!  Bring a perfect connection to you!
When she walked up, I was star-struck. She began to speak about the event and her career.  She was so passionate about connecting women and raising awareness about the awesome careers "behind the walls".  She told me about the book she had just completed about her father's life, how she taught herself how to write, and how special it was to tell her story of how he served his community by driving the school bus every day. Bottom line…We have so many opportunities to learn from someone's story.  I feel honored to have met such a pioneer. Please listen to Renee Joseph's story here:
https://www.empoweringwomeninindustry.com/podcast/episode/bde2df1c/empowering-women-podcast-renee-joseph-global-vp-of-sales-and-customer-enablement
A short pause…I had to take a break from writing this article to have ice cream with my mom and daughter (because sometimes ice cream with loved ones just can't wait ;D ). And now…a quote that came to me during that ice cream break:
"Thoughts can change your attitude immediately"
Which is why listening to the Empowering Women podcast is so powerful and enlightening…